When it comes to protecting and managing privacy, managing consent is a critical aspect.
The European Union's General Data Protection Regulation (GDPR) and similar legislation clarify this. It's imperative that people visiting your website or interacting with your organization clearly understand how their personal information is used and what their rights are.
At a compound annual growth rate of 21.9%, the global consent management industry is expected to reach $2,271.1 million in consumption by 2030. Nothing less will do; the best are investing and prioritizing to make this happen.You can't afford to be left behind. Beyond compliance, it builds user trust and enhances the corporate image.
Let's review 5 essential privacy tools that the best organizations are using. Are you ready to go through them one by one? Then, it's time for a data privacy check-up.
5 Consent Management Platforms to Know
1. Osano
This is where Osano shines as a must-have tool for ensuring compliance. Osano makes it easy to customize your privacy policy to meet your requirements. This allows your company to clearly and comprehensively explain how your company is collecting, storing, using, and protecting your users' personal information.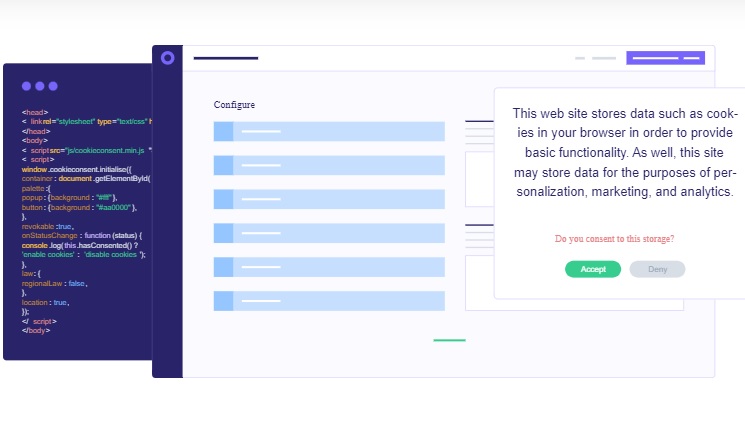 In addition, Osano helps you effectively track your users' consent with several tools and features. Case in point:
Automatic cookie detection technology: understand what data is being collected and how it is being used by automatically scanning and detecting cookies and third-party scripts on major websites
Centralized permission and authorization handling: so you can control and customize your online privacy and consent policies in one place
Customized consent tools: to match your site and brand. This means designing pop-ups, banners, and consent forms that integrate seamlessly for an optimal user experience.
Compliance monitoring: so you can track changes in privacy protection laws, as well as how data is collected and used online
Advanced compliance capabilities: including the ability to conduct privacy risk assessments, create customized privacy policies, and receive realtime alerts about data breaches
Legal advice: on the protection of private information to ensure you are always in compliance with laws and regulations
Osano is a complete online consent management solution that helps you elevate your company in the face of data protection laws and allows you to customize your compliance approach to meet your brand's needs. It oversees consent management and provides you with exactly what you have to know at the right time.
2. OneTrust
OneTrust is another of the most comprehensive and effective tools for managing online consent.
Simply put, OneTrust enables you to get user consent before collecting and processing their personal data online.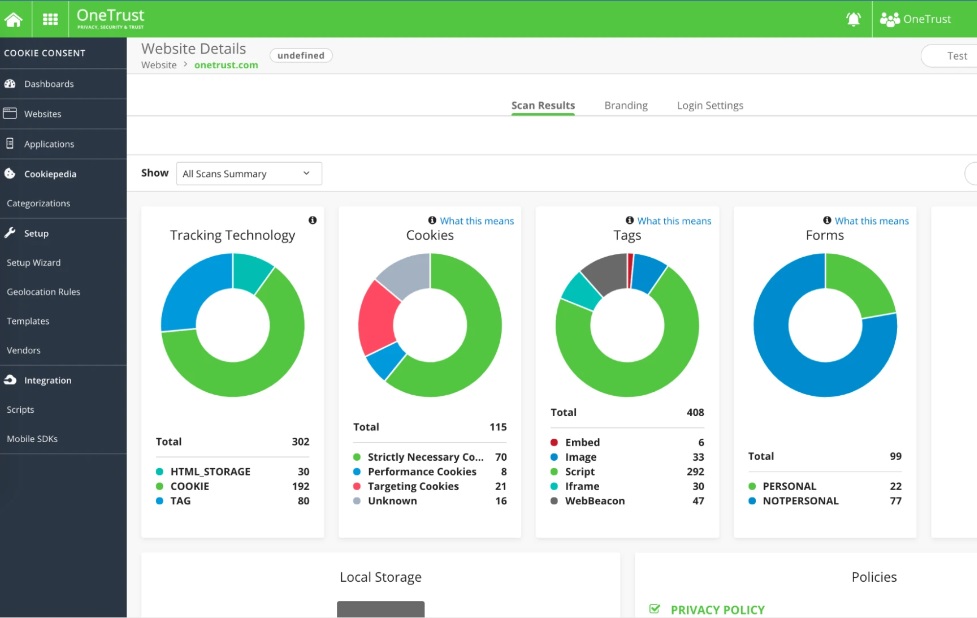 As a result, you can be confident that you are in compliance with regulations and not subject to potential fines and penalties.
Among its features are:
Easy to use and customizable for your specific business needs
Customize your consent requests to reflect your company's terms: and choose how they appear on your website.
Track and refresh consent in real time to stay on top of changes in user preferences
Implement additional security for sensitive data: including two-factor authentication.
Automate the removal of personal data after registering or purchasing: based on customer preferences.
You can create advanced user interfaces and experiences for your marketing and sales efforts. Gathering user consent and preferences, then matching that information with your market research. Although you'll need to use an outsourcing IT service to get the most out of it, it's a solid platform.
3. TrustArc
Aimed primarily at small businesses, it provides fairly comprehensive support for all aspects of permission and authorization handling. These include:
Intuitive user interface: it's clear and easy to understand, which helps ensure that users fully understand what they agree to
Personalized user experience: you can tailor the consent form to include only the consent requests that are relevant to the user and customize the information presented to ensure understanding
Consent logging and auditing: this helps you demonstrate that you have obtained user consent and are in compliance with the protection of private information. You can also conduct periodic audits to ensure compliance.
Integration with third-party systems: including content management systems and visitor tracking systems. This helps you manage consent across multiple channels and ensure that data is collected and used consistently across all systems.
Reporting and analysis: including information on the number of users who have given or withdrawn consent, as well as information on the most frequently submitted consent requests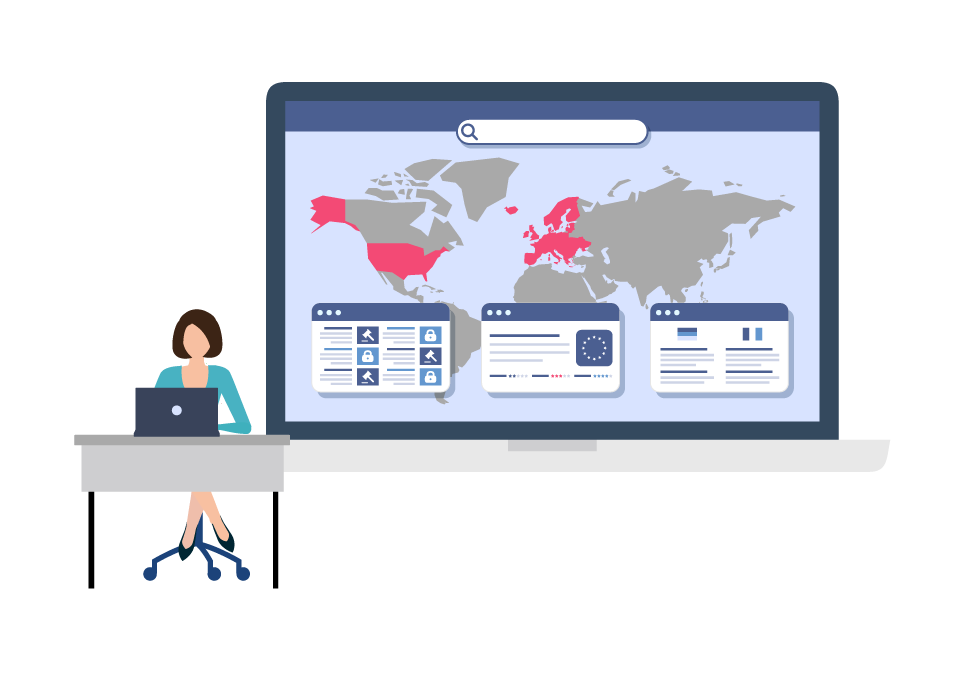 Emphasizes its comprehensive approach to online consent management, enabling you to comply with privacy regulations, protect user information, and maintain customer trust. All in one place.
4. Quantcast Choice
Users can control their privacy preferences, including what information they collect and what they do with that information. Its functions are:
Flexibility in configuring privacy policies: to adapt to the specific regulations of each region and country. Users can choose whether to accept or reject cookies and what categories of data can be collected and used.
Easy-to-use design: an intuitive interface that helps users understand how their information is used and enables them to make informed decisions about their online privacy
Cross-platform compatibility: can be deployed across devices, operating systems, and web browsers. This enables consistent compliance with online privacy regulations across all channels.
Advanced tracking capabilities: collect and analyze user data to gain detailed information about overall behavior and improve online advertising
Regulatory compliance: including GDPR and CCPA. The tool is also designed to be compliant with future regulations, ensuring that it is up to date with evolving online privacy regulations.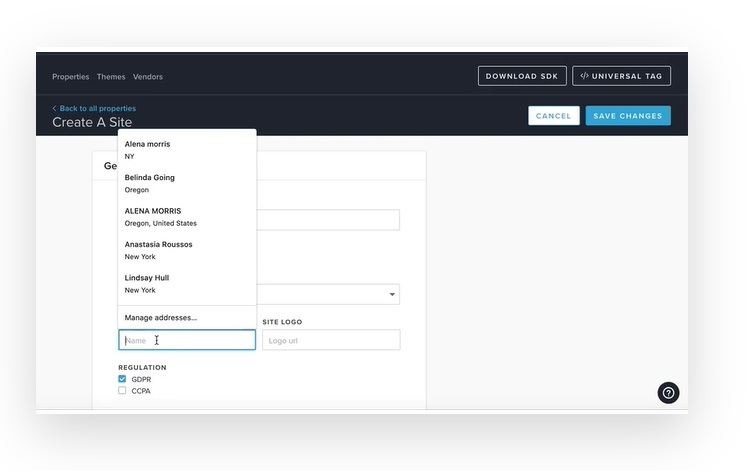 It's a dual software designed to help comply with online privacy regulations while giving users more granular control over their privacy preferences. Thinking about covering multiple processes with one system and thinking about long-term profitability is a big part of a good business strategy.
5. Cookiebot
It's a specialized tool for managing cookies in compliance with privacy laws. Some of its features are:
Categorization of cookies: according to their purpose and the information they collect. For example, performance cookies, advertising cookies, and social networking cookies. This allows users to understand better what data is being collected and why it is being used.
Customized cookie notice: for each site, allowing site owners to customize the look and functionality of the cookie notice to match the site's branding and layout
Granular opt-in: this means they can choose which cookies and tracking technologies to accept or reject. This ensures that site visitors have greater control over their privacy and personal information.
Automatic scanning and updating: to identify all cookies and tracking technologies used on the site, including third-party cookies. This allows you to understand the full scope of cookies used on your site and determine which cookies require consent.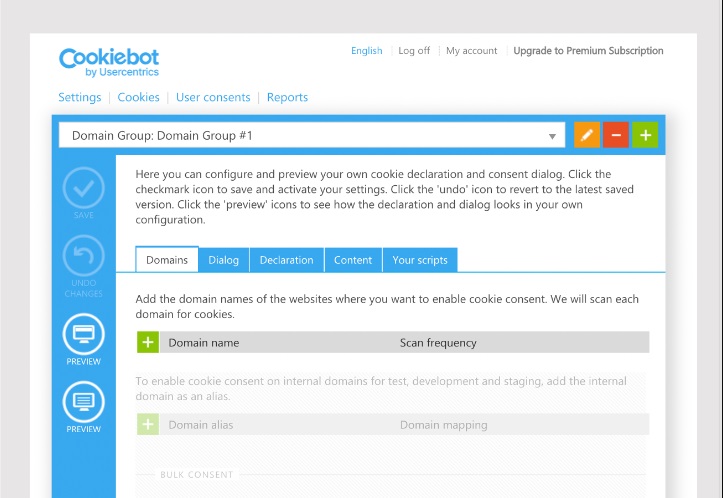 These features help ensure that the use of cookies complies with online privacy standards and gives site visitors greater control over their privacy and personal information. It works particularly well with websites designed for e-commerce, where the use of cookies is more prevalent.
Protection, Flexibility, and Automation: The Secrets of Permission and Authorization Handling
Consent management is a critical part of your ability to comply with online privacy and data protection laws and regulations.  It's imperative that you implement solutions that give users peace of mind and trust in your brand as privacy becomes a growing concern for Internet users. You have them:
Osano: is a comprehensive and customizable tool that allows you to tailor your compliance approach to your specific needs, and it has automated and continuous monitoring systems that are much needed
OneTrust: is easy to use and can be customized to reflect your company's terms and conditions, ensuring that users understand what they are agreeing to
TrustArc: is a good choice for small and medium-sized businesses, thanks to its intuitive user interface and its comprehensive approach to online permission and authorization handling
Quantcast Choice: provides a flexible, user-friendly solution to quickly and easily manage privacy settings
Cookiebot: manages, categorizes and organizes consent by working with cookies, regardless of type or size
When choosing a consent management tool, it's important to consider the specific needs of your business and make sure that the tool is a good fit for you. If you are looking for an effective way to comply with protection of private information while optimizing and improving internal processes, these solutions are an excellent choice. Support and monitoring are essential in this area, and we recommend Osano for that.
Ready to make a choice? You're not going to want to be late to the digital consent race.